Bar Chamfers
Expertly engineered using world leading technology, we offer all three models from J&S Engineering UK Ltd.
The Manual, Semi-Automatic & Fully CNC Automatic bar chamfering, stud rode and tube chamfering and ending machines all feature:
As low as 3 second cycle times
As low as 20 second change-over times for different component or bar sizes due to our unique clamping systems
A full range of quick change cutting heads are available to suit most jobs from chamfering to simultaneously facing, chamfering and centre drilling
For full product details see J&S Engineering, you can also view the machines at YouTube.
Alternatively, call on 01242 679386 or email us.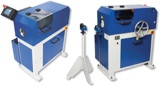 Interfacing
We are able to interface any make or type of machine to suit an Iemca bar feeder, from old cam machines to the latest CNC machines.
Both mechanical and electrical interfacing can be offered including fixed head and sliding head machines.
Training
We can offer a customised operator training package for you and your Iemca bar feeder. Whether you have a new machine or new staff.
We specialise in all models of Lemca from the very first machines to the latest fully CNC Iemca bar feeders.
Servicing and Repairs
Regular Iemca bar feeder servicing is recommended to all our customers.
This is the key to reliable running and continued productivity.
It is also essential in prolonging the life of your bar feed and maintaining your unmanned production – crucial in a competitive market.
We offer a comprehensive, full service for all Iemca models including electrical and mechanical component and alignment checks, clutch, chains and belt adjustment and oil lubrication system checks.
If you have a breakdown, we offer an expert Iemca bar feeder repairs service. Contact us as soon as possible to arrange a visit.
Should any spares be required from either a service or repair visit, an order can immediately be placed with our office to ensure fast replacement of any part and minimal disruption to production.